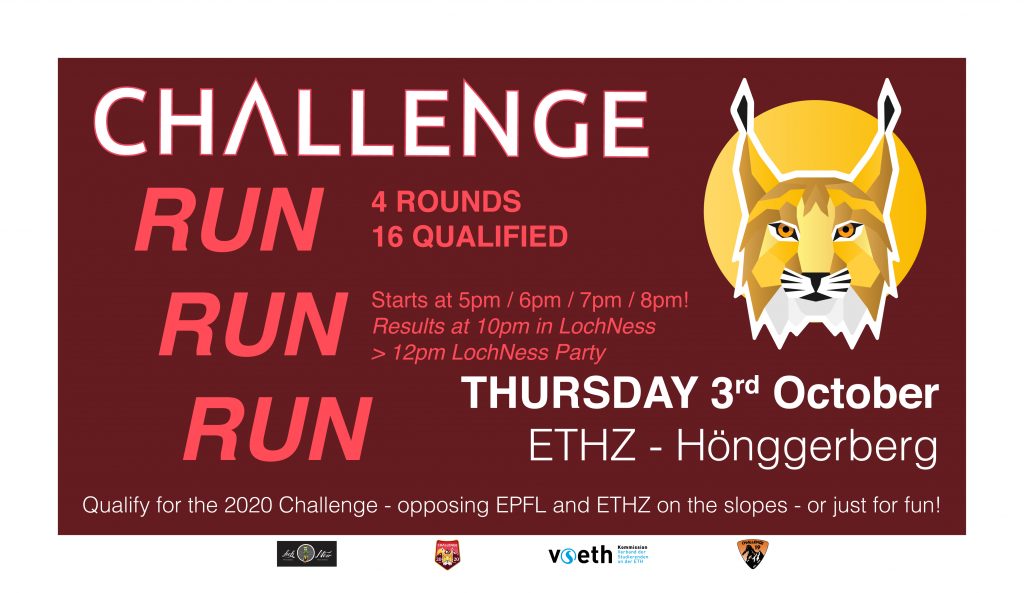 Thursday the 3rd of October Challenge is setting up the second version of the fabulous Challenge Run in Zurich! An obstacle course with water, snow and lots of fun. There will be two categories to participate in, so our Alumni and all other ETH students are more than welcome to join. This year 16 students will be able to qualify with outstanding athleticsm in order to participate in Challenge 2020 and join the never-ending Challenge family. For all the vivid supporters and participants we will be preparing hot and cold drinks and food.
Never heard of Challenge before? Then this is the perfect oppurtunity to get to know the Challenge family and experience the once in a time atmopshere live.
When? 3. October 2019 with hourly starts form 5pm to the last one at 8pm
Where? Hönggerberg Campus on the piazza (you can't miss it once you get off the bus) and our prize ceremony and afterparty will be in the student bar Loch Ness just over the street.
How do I register? Just follow this link and if you have any questions, don't hesitate to contact us via accueil.zh@challenge.swiss
REGISTRATION LINK https://forms.gle/MT5emvNkszRUePEo8
Watch the aftermovie of our first Challenge Run here!
If you want to play a more intense part in this amazing event, we are always happy for a helping hand. In fact, this is event is only possible with help of amazing people! Just follow the following link to register for a shift!
https://helfertool-gce.vseth.ethz.ch/challengerun/